NOVEMBER 15 - 23, 2019
The Curious Incident of the Dog in the Night-Time
Based on the critically acclaimed book by Mark Haddon, The Curious Incident of the Dog in the Night-Time focuses on Christopher, a young boy with an extraordinary brain and an exceptional talent for mathematics. When the neighbor's dog Wellington is found dead, Christopher launches an investigation into the mystery surrounding the dog's murder.
The Rambunctious Theatre Company is the resident, award-winning, student theatre company of Robinson Secondary School in Fairfax, Virginia. It is comprised of the boisterously talented and collaborative artists who produce and perform raucous musicals, plays, cabarets, and special events for audiences of all ages.
We believe there's a role for everyone in Rambunctious- from auditions, to creating the world of the play, to running the box office on opening night. The magic and thrill of live theater is like nothing else. Come join us!
SENSORY FRIENDLY PERFORMANCES
We ardently believe that theatre is for everyone and strive to offer every opportunity to be inclusive and aware of the needs of all members of our audience. Each show this season will feature a sensory sensitive performance. Please follow this link to review our resources for audience members and reserve your seats!
Camps and Special Events
Week-long summer camps, teacher-work-day camps, parent's night out babysitting…and more! We offer lots of opportunities to make your life a little more RAMbunctious.
Classes
RAMbunctious runs on high-achieving students, especially those who take any of our 12 class offerings a part of their daily school schedule. Learn about how to add theatre to your student journey at Robinson Secondary.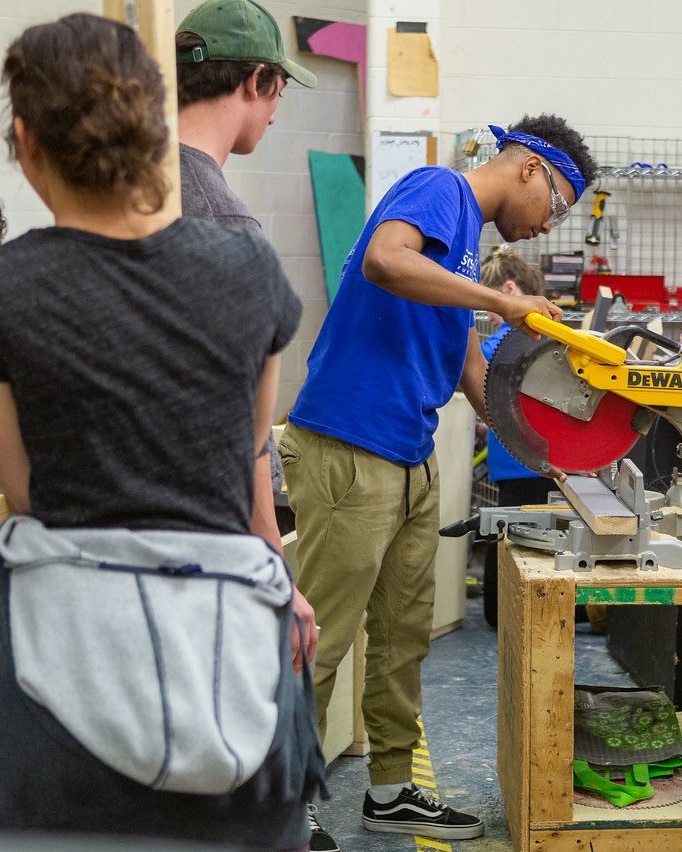 There is so much more to Theatre than being onstage! Explore your opportunities to build sets, design lights, produce, and stage manage.
"
September 2019
In all honesty I feel so much more prepared for college/films/jobs because of what I learned from Ms. Thrift and Ms. Hard, so keep learning!
Nikki Spina RTC Alumnus
Parents are an important part of our community
The Rambunctious Theatre Company Boosters are a non-profit 501(3)c organization. Comprised of community members and the parents of Robinson Secondary School Drama students, the boosters support, assist, and help to facilitate our various events and productions.
SIGN UP TO BE A BOOSTER
The Boosters support the Rambunctious Theatre Company by providing volunteer and financial support in areas such as ticket sales, publicity, hospitality and chaperoning.
Make a Donation
In our last season, we produced more shows and events than any school in Fairfax County; with 4 main-stage, 2 one acts, 3 Theatre for Young Audience shows, playwriting festivals, and show-cases.
And we need your help to keep it up!